Hot Air Balloon Rides along the Crocodile River
Posted on Wed January 4, 2023.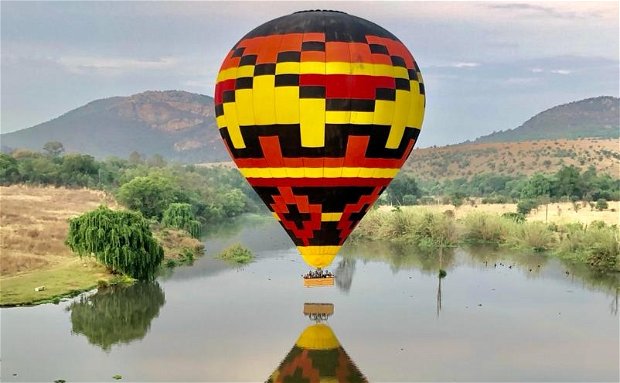 Hot air balloon rides along the Crocodile River provide guests with an array of amazing sightings from the hot air balloon. The abundance of wildlife and birdlife along the river, with beautiful forested areas on the banks, surrounded by rolling hills, make for a picturesque setting at every turn.
The morning's hot air balloon ride had the balloon drifting through the gorge between the Swatrkoppies Mountains and over the eastern Reserve's grass plains where it eventually joined up with the Crocodile River. The cool air running along the river pushed the balloon along its course and towards Lake Heritage. Drifting along the river at treetop height, the first sighting of the morning was made, 2 hippo submerged in the water with just their backs and heads breaking the surface, gave a grunt as the balloon passed over head and entered the mouth of Lake Heritage. Fish eagles nesting nearby gave their whooping call as the balloon was descended to just a few meters above the water's surface and glided across to the northern end of the lake, where a mist of white spray rising up into sky could be seen, giving away Lake Heritage's waterfall.
A variety of plains game were spotted on the banks of the lake, but the sightings of a small group of giraffe with a baby and white rhino making their way up a hill close by, were the highlights of the morning's hot air balloon safari. The hot air balloon ride continued at low level across the lake, where it eventually met the sheer drop of the waterfall and was engulfed in its spray, creating a lot of excitement amongst the passengers on board.
After a period of scenic high level flying, an open grassy area was chosen for landing, and with some precision driving from the ground crew, the balloon was landed directly onto the trailer. A superb morning of flying aboard a hot air balloon was celebrated with a bottle of bubbly and a well-deserved breakfast back at a five star lodge, concluding a memorable hot air balloon ride.