Forum Homini Boutique Hotel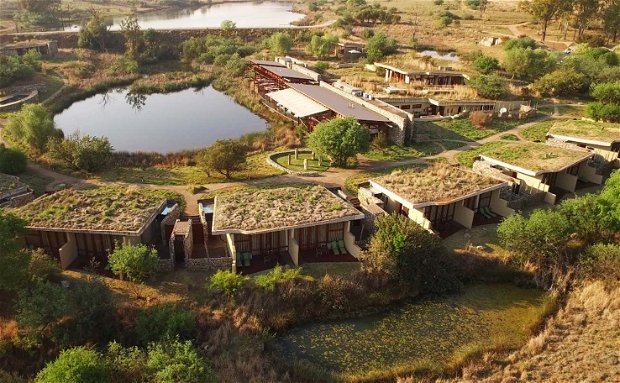 Situated on a private game estate in the heart of the Cradle of Humankind, Forum Homini is an architectural masterpiece set in a solemn and poetic landscape. Sweeping views of the highveld abound from luxury suites with roofs covered in African veld, this allows for an almost cave-like experience.
All 12 luxury suites are carved into the landscape blending into the African savannah. The suites are complete with fireplaces and stalactite lights. The king size bed has voluptuous pillows and is enveloped in a romantic silk canopy. Guests enter the outdoor double shower through a waterfall of sparkling coloured beads. A sumptuous bath for two is set in the lounge overlooking the bushveld. The suites are ideal for romantic getaways.
Roots Restaurant
Roots gourmet restaurant is renowned as one of Johannesburg's top fine dining restaurants. Indulge in delectable dishes inspired by French, African and Asian influences. Dinner is six-course, lunch four-course and breakfasts four- course (unless you're in a hurry!). Gourmet dishes are served with wine teasers to compliment each dish. Our cellar boasts wines handpicked from top South African wine estates. Five-course Saturday brunches & six- course Sunday lunches are highly popular.
Sharing exquisite food and wine inside roots, or al fresco on the sun deck, with views over the lake and the veld, must be one of the most delightful things one can do. The roots food and wine concept sets a new benchmark in South African cuisine.
Your Booking
Contact us for additional information and specials on our balloon and accommodation packages.
Tel: 083 356 2435
Email: info@air-ventures.co.za
Transfers can be arranged upon request.